What is Telehealth?
Telehealth is developing fast: since 2018, remote medicine is fully reimbursable by the French healthcare. Now, every doctor must be able to offer remote consultations, and acts of telecare are thriving.
Telehealth helps overcome structural and technical constraints, such as:
Make access to healthcare services easier to people living in isolated zones (rural areas, ageing population) -- medical expertise is more balanced across the national territory;
Improve patient care and medical monitoring in sanitary crisis situations or for patients with chronic diseases;
Regulate patient flux in hospitals, smooth out the appointment management and document sharing processes in everyday medicine;
Ease communication and coordination between healthcare professionals.
Telemedicine solutions are aimed at paramedical professionals and pharmacists, with the ultimate goal to offer access to remote health services to any health professional and their patients.
Telemedical acts (teleconsultation, tele-expertise, medical telemonitoring, medical tele-assistance and emergency services) require specific implementation. Acts of telecare, aimed at paramedical and pharmacy workers, have also being booming in recent years.
The ANS helps you update your digital solutions: we provide you with the necessary information, starting with the Functional Telehealth Referential and the Telemedecine Component, which make up its basic operational framework
Introducing telehealth
The following activities are covered under the umbrella of telehealth :
Teleconsultation;
Tele-expertise;
Medical tele-monitoring;
Medical tele-assistance;
Remote medical first-response (emergency services);
Telecare.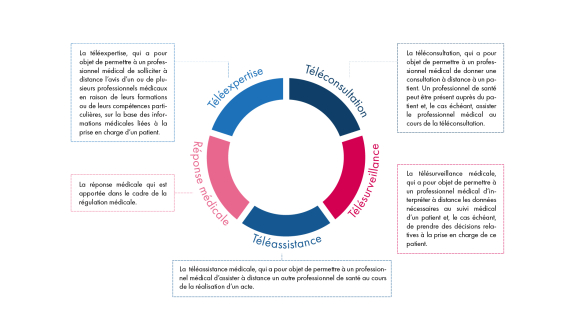 Types of Telehealth specialisations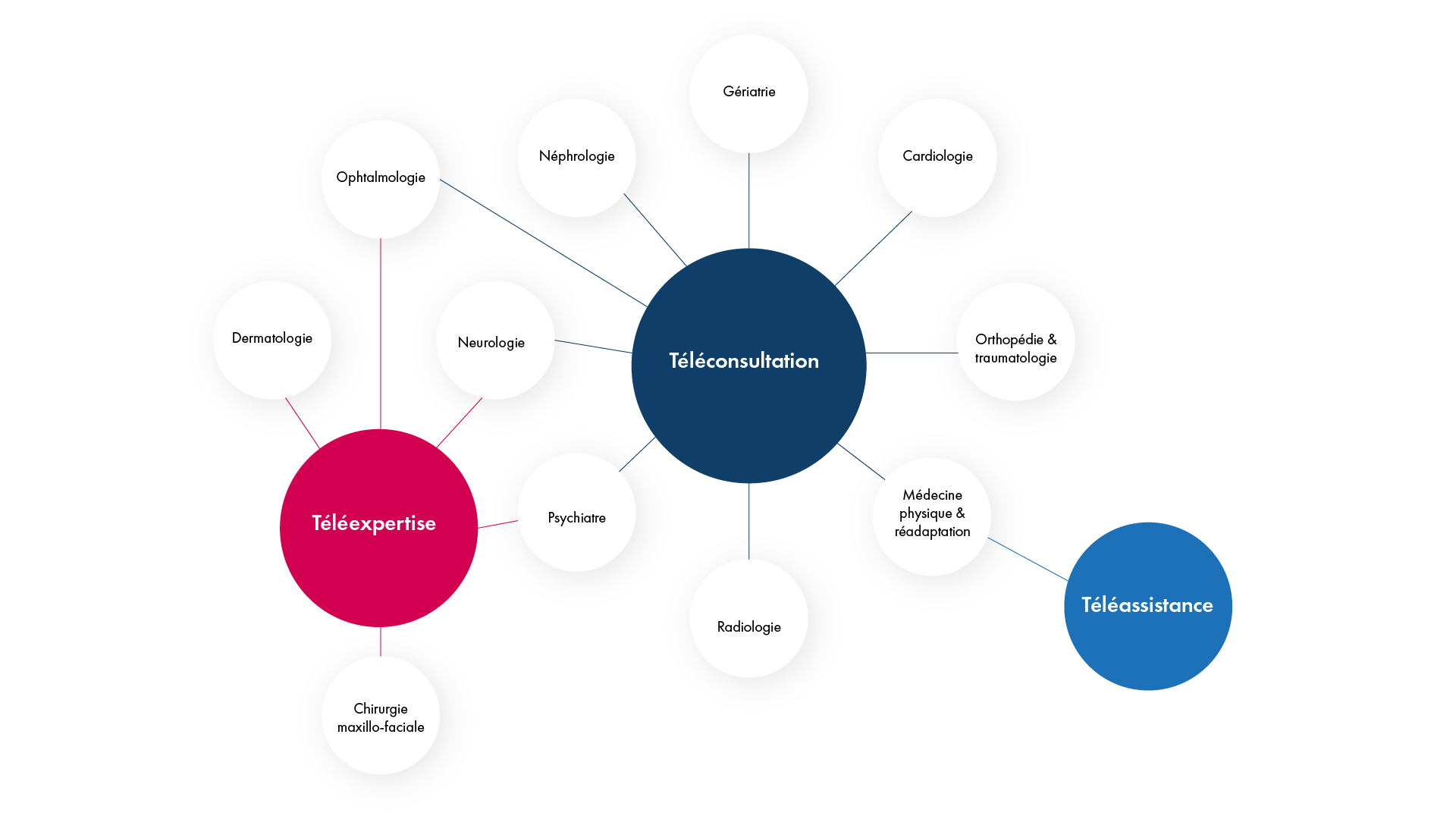 11 medical fields are covered in the telemedicine fact sheets: the ANS and healthcare professionals worked together to establish 14 fact sheets about telemedical cases/scenarios
€ 76 Million The amount of financing made available for telemedicine projects between 2014 and 2017: a total 344 projects were supported for the year 2017 alone
10 Countries were surveyed in the comparative study conducted by the ANS about the international development of telemedicine: Australia, Canada, Germany, Japan, Morocco, Norway, the UK, Singapor, Sweden and Switzerland
Preparing yourself for telehealth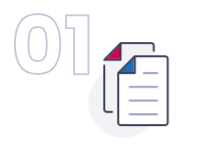 Step 1: To begin, read the summary of the comparative study regarding telemedicine implementation in France
This summary has important data about cases (scenarios) for each profession and establishes an overview of the equipment required.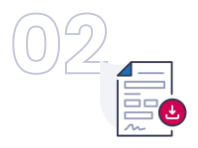 Step 2: Download the Functional Referential for Telehealth
The referential sets out the functionalities of a telehealth IS expected or needed to enable teleconsultation or tele-expertise practices
Step 3: Read the CI-SIS Telemedicine chapter  
This chapter (in two parts) covers the functional and technical specifications of digital medical documents to be issued in the context of acts of teleconsultation and tele-expertise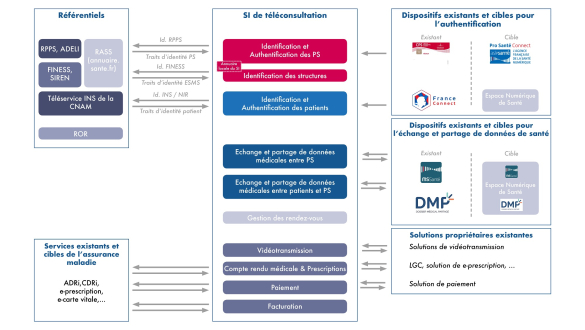 March 2018
The ANS conducts a national study to help the deployment of telehealth
September 2018
Telehealth becomes reimbursable by the French Social Security
December 2019
The functional and technical specifications needed for IS interoperability (CI-SIS) are published in order to integrate telehealth
Frequently Asked Questions
The ANS answers the most common questions about Telehealth
[ Date de mise à jour : 20 May. 2023 ]
Topic: Telemedecine
Product / Service : Telehealth
The study conducted by the ANS helped establish that the equipment used in telehealth practices can be : 
A space dedicated to telehealth
A teleconsultation booth
A console with screen
A teleconsultation cart
A visioconference cart
A PACS console
A computer with webcam
A digital tablet
A smartphone
Carte Vitale reader
Digital dermatoscope
Digital otoscope
Digital ophthalmoscope
Digital fundus camera
Connected echograph scanner
Connected thermometer, stetoscope, scale and tensionmeter
Further information is available in the Documentation.
[ Date de mise à jour : 20 May. 2023 ]
Topic: Telecare
Product / Service : Telehealth
The ANS conducted a study on telehealth in France, based on 14 practices covering 11 specialties. These are: 
nephrology, geriatrics, cardiology, orthopedics/traumatology, anethesia, psychiatry, gerontopsychiatry (teleconsultation practices);
neuropediatrics, dermatology, maxillofacial surgery (tele-expertise practices);
ophthalmology, medical and surgical neurology, tele-radiology, chronic wounds treatment (multi-act practices).
These practices are presented as fact sheets in the document below "Restitution des cas d'usage en télémédecine"
Was this page useful to you?