What is the INS?
Since January 2021, health data must be referenced with the patient's INS (which stands for the National Health Identifier). The INS usually corresponds to the patient social security number. It holds 5 basic civil traits: the birth name, the first name(s), the date of birth, the sex of the patient, and their place of birth.
Why should you make your software INS-compatible? Simply because it has become a legal requirement for your clients to reference a patient's health data with this ID. The INSi teleservice (National Health Identifier integrated) was created to provide the INS of a patient to authorised health and medico-social professionals.
Making your software solution INS-compatible will also make you eligible for Ségur funding.
The ANS and its partner in this project, the GIE Sesam-Vitale, are here to support you in the following ways:
Our interactive G_NIUS tool: it sets out the steps to follow in order to roll out the INS, as well as essential references, documents, and the relevant contacts;
A help desk, hosted within the GIE Sesam-Vitale facilities, to assist you as you develop your software solution;
One-on-one meetings, to catch up on your progress and resolve potential issues.
We also produced a series of INS webinars aimed at software publishers. Watch them in our Video section.
Introducing the INS
As a software creator, you must now offer INS-compatible solutions to your clients. This means that your solution must comply with the INS Implementation Guide (available in our Documentation section).
Your clients will also be eligible to receive financial support for their equipment, which is one of the measures set out in the first wave of the Ségur.
160 Manufacturers are currently authorised by the INSi service, covering 141 software solutions
4,7 Million Calls made to the INSi teleservice in February 2022
25,000 Unique users registered with INSi, as of February 2022
Become INS-compatible in 3 steps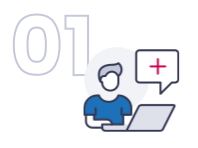 Step 1: Join the INSi teleservice
The INSi service enables you to obtain a patient or user's INS, or to verify it.
Download the INS Implementation Guide for more information.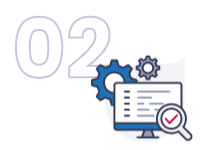 Step 2: Implement the INS into your software
User identities must be dealt with in compliance with identity monitoring guidelines, which are set out in the National Referential (RNIV), also available in our Documentation section.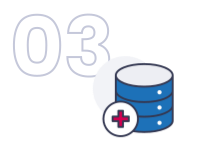 Step 3: Roll out the INS
The INS must appear clearly as a datamatrix code on all the documents produced by your software. You must also be able to roll out INS into your IT workflow in accordance with the Interoperability Framework for Health Information System (CI-SIS)
Interactive guide to the INS
Our GNIUS interactive tool walks you through the relevant steps to take, the contacts you need, and the documentation necessary for your INS project to succeed.
Before beginning work on your project, make sure the INS applies to you
Identify the nature of your software and use the INS guide
The ANS provides you with the resources you need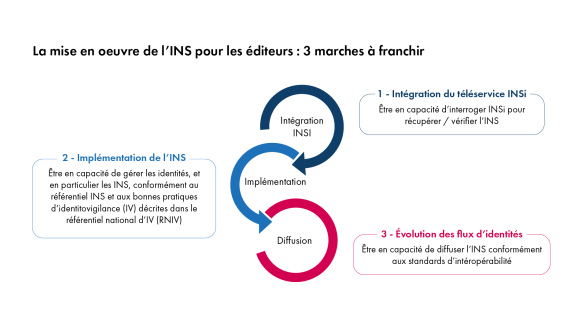 1 January 2021
The INS becomes compulsory. From this date onwards, all patients' health data must be referenced with the INS.
8 June 2021
The INS Referential (v2) is published. It introduces the option to contact the INSi with a software certificate, and guidelines relating to the RNVI.
End of 2021
The INS is rolled out! The first INS-compatible software solutions come into play. There were 3 million calls made to INSi in Octobre 2021. More than 25% of healthcare structures have contacted INSi.
Frequently Asked Questions
The ANS is here to answer your questions.
[ Date de mise à jour : 20 May. 2023 ]
In order to make the check lists more transparent and reduce the risk of seeing your Ségur application denied, we have published a document listing common mistakes, which is available below:
Cette réponse vous a-t-elle été utile ?
[ Date de mise à jour : 20 May. 2023 ]
To make sure your software complies with the guidelines required to implement INS into software, several documents are available:
Cette réponse vous a-t-elle été utile ?
[ Date de mise à jour : 20 May. 2023 ]
Upgrading your products allows you to offer your customers a solution that complies with current regulations. Failure to meet this requirement will have several impacts: 
Your customers will not incorporate the INS into their software, which will entail possible penalties with regard to several systems (Ségur Wave 1, HOPEN, portal listing in Mon Espace Santé, etc.) ; 

Your customers will not be in compliance with the law. They will therefore be responsible for any errors in the identification of their patients and users ; 
Sharing health data by your customers will be more time consuming ; 

The identity used by your customers may not be the right one, for instance if a patient uses their married name or if the patient is a child registered under their parent's social security number.
Cette réponse vous a-t-elle été utile ?
[ Date de mise à jour : 20 May. 2023 ]
Our partner, the GIE Sesam-Vitale, is here to provide you with support and answer your questions about your software project, how to integrate INSi, or solve any potential technical setbacks. 
The helpdesk is available by phone at +33 (0)2 43 57 42 88, from 9am to 12noon, and from 2pm to 6pm, Monday to Friday. You may also send an email to centre-de-service@sesam-vitale.fr.
Cette réponse vous a-t-elle été utile ?
Discover related services
Was this page useful to you?